Taste & Traditions
Hotel with restaurant on the seafront in Marche
Thanks to 20 years of experience, Hotel Solarium's restaurant is the perfect location for the celebration of weddings, christenings, first communions, confirmations and for degree parties, gala, business lunches and dinners. From candlelight dinners to the convivial lunches with friends, the restaurant offers an impeccable service which aims to make every occasion special.
The cuisine proposes tasty fish and meat recipes, along with a rich selection of wines. Our team will be very helpful.
Wide choice and customize solutions to organize your event, different types of tablecloths and settings, centerpiece match, ornaments, seat markers and personalized menus, spectacular cakes in different flavors, live music.
The evocative panoramic terrace on the seafront raised floor is the perfect frame for aperitives or cocktail parties. Our rooms are appropriate for receptions and banquets instead, in which menus are served at the table or through a buffet.
Possibility to book the private, small restaurant room.
---
---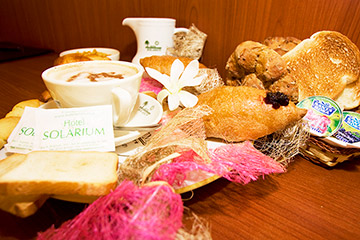 Breakfast
A rich breakfast buffet will make your morning perfect; You will find fresh-baked croissants and cakes, together with a good, Italian coffee.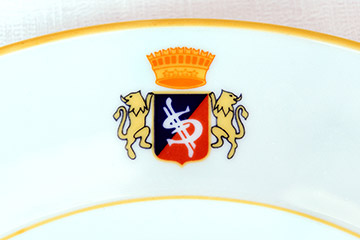 Lunch and Dinner
During the meals you will be comfortably at ease in bright and pleasant rooms, where you can taste a great variety of natural products which originate from our land.